The jury's still out about whether Google CEO Eric Schmidt is trying to regale the world with his dark wit about people changing their names if they don't like their Google results or whether his giddy comments about Google purview are actually meant in earnest. Until Schmidt's intentions are established, CNN thoughtfully removed his statement that people who aren't keen on Google Street View photographing their home "can just move" from the video of the interview. Thankfully, they left in Spitzer's knowing smile in response to Schmidt saying, "We keep the searches that you do for roughly a year, or a year and a half."
In the category "newspapers that don't understand the Internet" we present you The North County Gazette.
[Quote]:
(CNN) — Authorities in northeast Texas were assessing damage Monday morning after a tornado destroyed homes, knocked train cars off their tracks and injured at least four people.

Five homes in Rice, Texas, were destroyed as 125 mph winds whipped through a seven-mile swath of Navarro County Sunday evening, said Eric Meyers, the county's emergency management coordinator.

Meyers rode out the tornado inside a vehicle and videotaped the twister as it tore the roof off a school about a block away.

"We are in the tornado! We are in the tornado!" Meyers yells several times in the video.
Fox News wants to maintain an ideological divide within the media for marketing reasons, says a senior reporter that recently left the network.

Appearing on MSNBC's Morning Joe Monday, Major Garrett explained that his former employer has a vested interest in making sure the media is as polarized as possible.
A four-month-old baby is dead and 10 other people are injured in the small town of La Verriere, west of Paris, France after they jumped out of their apartment's third-storey window after believing to have seen the devil.
A STOWAWAY crocodile on a flight escaped from its carrier bag and sparked an onboard stampede that caused the flight to crash, killing 19 passengers and crew.

A lone survivor from the Let 410 plane told the astonishing tale to investigators.

Ironically the crocodile also survived the crash but was later killed with a machete by rescuers sifting through the wreckage.
(Reuters) – The United Nations should impose a moratorium on "geo-engineering" projects such as artificial volcanoes and vast cloud-seeding schemes to fight climate change, green groups say, fearing they could harm nature and mankind.

The risks were too great because the impacts of manipulating nature on a vast scale were not fully known, the groups said at a major U.N. meeting in Japan aimed at combating increasing losses of plant and animal species.
Some of the geo-engineering schemes proposed include:

— Ocean fertilization. Large areas are sprinkled with iron or other nutrients to artificially spur growth of phytoplankton, which soak up carbon dioxide. But this could trigger harmful algal blooms, soak up nutrients and kill fish and other animals.

— Spray seawater into the atmosphere to increase the reflectivity and condensation of clouds so they bounce more sunlight back into space.

— Placing trillions of tiny solar reflectors out in space to cut the amount of sunlight reaching the Earth.

— Artificial volcanoes. Tiny sulfate particles or other materials are released into the stratosphere to reflect sunlight, simulating the effect of a major volcanic eruption.
Ray Ozzie wrote a good-bye memo, but unfortunately it seems to be in a dialect of marketeese I can't translate yet.
Anybody want to try for me?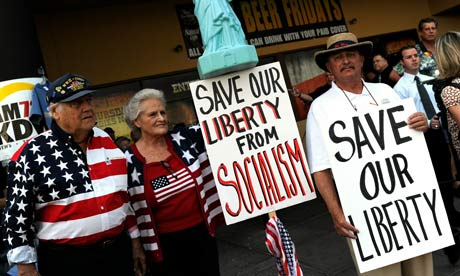 BP and several other big European companies are funding the midterm election campaigns of Tea Party favourites who deny the existence of global warming or oppose Barack Obama's energy agenda, the Guardian has learned.
[Quote]:
In Colorado Springs, sales tax revenue from medical marijuana has risen to about $50,000 a month, allowing the city to mow grass medians and consider restoring some Saturday bus service.
[Quote]:
"When you say the Pledge of Allegiance, you say, with 'justice for all," Stiglitz said. "People aren't sure that we have justice for all. Somebody is caught for a minor drug offense, they are sent to prison for a very long time. And yet, these so-called white-collar crimes, which are not victimless; almost none of these guys, almost none of them, go to prison."
[Quote]:
When logging into a website you usually start by submitting your username and password. The server then checks to see if an account matching this information exists and if so, replies back to you with a "cookie" which is used by your browser for all subsequent requests.

It's extremely common for websites to protect your password by encrypting the initial login, but surprisingly uncommon for websites to encrypt everything else. This leaves the cookie (and the user) vulnerable. HTTP session hijacking (sometimes called "sidejacking") is when an attacker gets a hold of a user's cookie, allowing them to do anything the user can do on a particular website. On an open wireless network, cookies are basically shouted through the air, making these attacks extremely easy.

This is a widely known problem that has been talked about to death, yet very popular websites continue to fail at protecting their users. The only effective fix for this problem is full end-to-end encryption, known on the web as HTTPS or SSL. Facebook is constantly rolling out new "privacy" features in an endless attempt to quell the screams of unhappy users, but what's the point when someone can just take over an account entirely? Twitter forced all third party developers to use OAuth then immediately released (and promoted) a new version of their insecure website. When it comes to user privacy, SSL is the elephant in the room.

Today at Toorcon 12 I announced the release of Firesheep, a Firefox extension designed to demonstrate just how serious this problem is.
[Quote]:
Weeks of strikes, protests and demonstrations have brought much of France to a standstill as workers, students and others voice their strong opposition to a government proposal to raise the age for a minimum pension from 60 to 62. A quarter of the nation's gas stations were out of fuel, hundreds of flights were canceled, long lines formed at gas stations and train services in many regions were cut in half. Protesters blockaded Marseille's airport, Lady Gaga canceled concerts in Paris and rioting youths attacked police in Lyon. The unpopular bill is edging closer to becoming law as the French Senate is preparing to vote on it today. Collected here are recent images of the unrest around France. Update: Pension reform bill just now passed by French senate. (40 photos total)
19
French high school students kiss on the road in front of the police at the end of a demonstration over pension reform in Paris October 21, 2010. (REUTERS/Gonzalo Fuentes) #
[Quote]:
"Google is not associated with things you pay for, and Android is an extension of that," said Mr. Hall of Larva Labs. "You don't pay for Google apps, so it bleeds into the expectations for the third-party apps, too."