The Army earlier this year steered a $31 million contract to a psychologist whose work formed the psychological underpinnings of the Bush administration's torture program.

The Army awarded the "sole source" contract in February to the University of Pennsylvania for resilience training, or teaching soldiers to better cope with the psychological strain of multiple combat tours. The university's Positive Psychology Center, directed by famed psychologist Martin Seligman, is conducting the resilience training.

Army contracting documents show that nobody else was allowed to bid on the resilience-training contract because "there is only one responsible source due to a unique capability provided, and no other supplies or services will satisfy agency requirements." And yet, Salon was able to identify resilience training experts at other institutions around the country, including the University of Maryland and the Mayo Clinic. In fact, in 2008 the Marine Corps launched a project with UCLA to conduct resilience training for Marines and their families at nine military bases across the United States and in Okinawa, Japan.
Cancer is a man-made disease fuelled by the excesses of modern life, a study of ancient remains has found.

Tumours were rare until recent times when pollution and poor diet became issues, the review of mummies, fossils and classical literature found.

A greater understanding of its origins could lead to treatments for the disease, which claims more than 150,000 lives a year in the UK.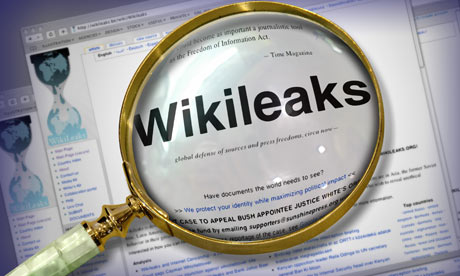 The whistleblowing group WikiLeaks claims that it has had its funding blocked and that it is the victim of financial warfare by the US government.

Moneybookers, a British-registered internet payment company that collects WikiLeaks donations, emailed the organisation to say it had closed down its account because it had been put on an official US watchlist and on an Australian government blacklist.

The apparent blacklisting came a few days after the Pentagon publicly expressed its anger at WikiLeaks and its founder, Australian citizen Julian Assange, for obtaining thousands of classified military documents about the war in Afghanistan, in one of the US army's biggest leaks of information. The documents caused a sensation when they were made available to the Guardian, the New York Times and German magazine Der Spiegel, revealing hitherto unreported civilian casualties.
Oct 14 (Reuters) – Oilfield services company Halliburton Co (HAL.N) said Thursday it received a contract to refurbish wells in southern Iraq by Exxon Mobil Corp (XOM.N).

Under the contract, Halliburton will provide on-site logistics and technical support for both rigless and rig-assisted workovers, a procedure used to increase production from existing wells in Iraq's West Qurna Phase One field.

A spokeswoman for Halliburton declined to provide additional details.
Mr. Dick Cheney is proud.
[Quote]:
President Obama said Tuesday that he is a "Christian by choice" and that his decision was influenced by gospel teachings about salvation and the importance of loving one another
Well, there you have it. He admits he's a follower of the bearded radical from the Middle East.
[Quote]:
Speaking from his home in Dallas, former president George W. Bush told reporters Tuesday that when he's not busy giving lectures or writing his memoirs, he spends most of his spare time working on the manned mission to Mars he proposed in January 2004.

"This is genuinely important to me," said Bush, looking over sketches of potential rocket systems he had drawn up while waiting for his oil to be changed at a service station earlier this week. "I wasn't kidding when I announced a plan to get us to Mars, by God, and I intend to finish what I started. That's why I try to carve out a little time before lunch and after dinner to work on this important interplanetary initiative."

"It's a big project," Bush added. "Lots of little details to work out."
[Quote]:
As you may have heard, we've had a very close election here in Sweden. Today the Swedish Election Authority published the hand written votes. While scanning through them I happened to notice

R;13;Hallands län;80;Halmstad;01;Halmstads västra valkrets;0904;Söndrum 4;pwn DROP TABLE VALJ;1

The second to last field is the actual text on the ballot. Could it be that Little Bobby Tables is all grown up and has migrated to Sweden? Well, it's probably just a joke but even so it brings questions since an SQL-injection on election data would be very serious.

Someone even tried to get a JavaScript in there:

R;14;Västra Götalands län;80;Göteborg;03;Göteborg, Centrum;0722;Centrum, Övre Johanneberg;(Script src=http://hittepa.webs.com/x.txt);1

I'm pleased to see that they published the list as text and not HTML.
[Quote]:
Belgian Archbishop André Joseph Leonard sees AIDS as a kind of righteousness.
[Quote]:
In an effort to rush through thousands of home foreclosures since 2007, financial institutions and their mortgage servicing departments hired hair stylists, Walmart floor workers and people who had worked on assembly lines and installed them in "foreclosure expert" jobs with no formal training, a Florida lawyer says.

In depositions released Tuesday, many of those workers testified that they barely knew what a mortgage was. Some couldn't define the word "affidavit." Others didn't know what a complaint was, or even what was meant by personal property. Most troubling, several said they knew they were lying when they signed the foreclosure affidavits and that they agreed with the defense lawyers' accusations about document fraud.

"The mortgage servicers hired people who would never question authority," said Peter Ticktin, a Deerfield Beach, Fla., lawyer who is defending 3,000 homeowners in foreclosure cases. As part of his work, Ticktin gathered 150 depositions from bank employees who say they signed foreclosure affidavits without reviewing the documents or ever laying eyes on them — earning them the name "robo-signers."
[Quote]:
Gov. Rick Perry approved a $4.5 million award from the state's technology fund to a company founded by a major campaign donor despite the company's failure to win the endorsement of a regional screening board, The Dallas Morning News has learned.
[Quote]:
In Gitmo Opinion, Two Versions of Reality. "When Judge Henry Kennedy Jr. ordered the release of a Guantánamo Bay detainee last spring, the case appeared to be a routine setback for an Obama administration that has lost a string of such cases. But there turns out to be nothing ordinary about the habeas case brought by Uthman Abdul Rahim Mohammed Uthman, a Yemeni held without charges for nearly eight years. Uthman, accused by two U.S. administrations of being an al-Qaida fighter and bodyguard for Osama bin Laden, is among 48 detainees the Obama administration has deemed too dangerous to release but 'not feasible for prosecution.' A day after his March 16 order was filed on the court's electronic docket, Kennedy's opinion vanished. Weeks later, a new ruling appeared in its place. While it reached the same conclusion, eight pages of material had been removed, including key passages in which Kennedy dismantled the government's case against Uthman."
"Somebody threw a book at President Obama. If you're trying to scare a president by throwing a book at him, you're one president too late."
–David Letterman
My car chase from Ben Pluimer on Vimeo.
[Quote]:
Last year I interviewed for a TV job, and they asked me if I had ever directed or shot car chases. I said yes, went home, shot this, and sent it back to them.

I didn't get the job.